I'll be posting each Friday with the same theme of
"A Family Lives Here"
. Hope you like it. Hope you join in on the fun.
Exhibit 12:
Where am I?
Well, I've been out and about with my girls all summer.
Swimming, creating art, exploring, working on workbooks, cooking, baking, imagining... all of it... offline. It's been great!
Toodleoo!
ps. There's also been a fair bit of this...
You know... fighting, whining and general mayhem.
and this...
Have you been busy having fun this summer?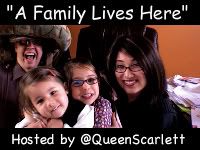 We're like detectives, scouting out evidence that a family lives here.
Join me by posting a proof of family, with your commentary.
Then, tack on my button and include it in your post.
Remember to add your link via Mr. Linky.