I'll be posting each Friday with the same theme of
"A Family Lives Here"
. Hope you like it. Hope you join in on the fun.
Exhibit 13:
All set up for a bit of painting.
My oldest is all about art, writing, dancing, singing, and is pretty much my little creative genius.
My youngest is right there next to her sister, they enjoy doing so many things together, all the time.
While they were busying making their little masterpieces, I busied myself in the kitchen doing what I love most...
Chocolate cupcakes (I used the chocolate cake recipe from Real Simple Magazine), filled with a dollop of nutella and a strawberry/raspberry/lemon sauce (I used the Ina Garten eton mess recipe for the sauce & added chopped strawberries), then frosted with dark chocolate ganache

(I used the Trader Joe's pound plus dark chocolate bar instead of semi-sweet chocolate)

, decorated with a milk chocolate crisp and a slice of strawberry.
My little masterpieces displaying their masterpieces, eating mine.

I feel so grateful to have the luxury to create, simple things that bring joy.
What do you and yours love to make?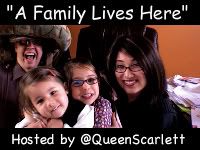 We're like detectives, scouting out evidence that a family lives here.
Join me by posting a proof of family, with your commentary.
Then, tack on my button and include it in your post.
Remember to add your link via Mr. Linky.