I'll be posting each Friday with the same theme of
"A Family Lives Here"
. Hope you like it. Hope you join in on the fun.
Exhibit 15:
As kids my brothers and I enjoyed playing with legos. We received some legos one Christmas I remember. We were excited! Then we realized the pieces were mixed up in all of our boxes. Turns out they were hand-me-down legos from our friend across the street. My Mom had saran wrapped the boxes. Regardless, we loved creating with them.
We thought now would be a good time to introduce our girls to legos. We went to Target and found the only pink box in the aisle. We also purchased a pack with a bus, pizza shop, bike shop and bus stop.
Let's just say... I love putting them together. I love following instructions. Also, I love miniature stuff. Our girls... kept saying "Oh! How cute! It's so tiny!"
Oh, I've already vacuumed up a glass goblet, but saw it and removed it from the vacuum. I felt like a hero. I've already stepped on two... and one of them made my foot bleed, internally. Let the madness begin.
What are your favorite legos?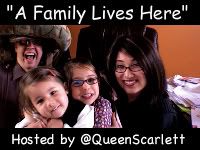 We're like detectives, scouting out evidence that a family lives here.
Join me by posting a proof of family, with your commentary.
Then, tack on my button and include it in your post.
Remember to add your link via Mr. Linky.