I'll be posting each Friday with the same theme of
"A Family Lives Here"
. Hope you like it. Hope you join in on the fun.
Exhibit 14:
Good morning! It's breakfast time.
Tiana must've made good on her restaurant.
If Mulan is anything like me - she loves to enjoy good food.
Look, there are the cutie pies enjoying breakfast and entertainment.
Tiana and Mulan were centerpieces for our dinner the night before these pictures were taken. My daughters love setting the table, but their favorite thing to do is to come up with creative center pieces.
Do you kids like to set the table too?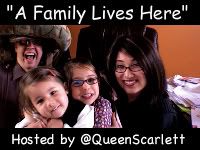 We're like detectives, scouting out evidence that a family lives here.
Join me by posting a proof of family, with your commentary.
Then, tack on my button and include it in your post.
Remember to add your link via Mr. Linky.