I love the spoon shape.
Last week my husband scored a ticket to go to the first SJ Sharks playoff game. My husband is a huge fan of Bay Area sports. He's currently glued SF Giants too.
Somehow they thought it would be a great idea to sip their juice and water at the same time for... watered down juice?
Since he was going to be gone for the evening on Wednesday of last week, I told him I would take the girls out for dinner. He thought it was a great idea, and I agreed of course.
They used to need the plastic chop stick helper clips - they don't need them anymore.
Oh yeah... Asian genes baby.
So Wednesday evening we headed to my 6YO's favorite Japanese restaurant. We took these cute pictures and texted them to my husband. After we'd gotten home my husband called and said, the pictures were cute, but his SJ Shark game was Thursday, not Wednesday. Turns, out Wednesday he was just working late.
Apparently, I pulled another Joey Moment.
So there really wasn't anything to do, but to repeat our GNO the next evening. (Oh, darn.)
Have I told you how much I love having daughters?
Even with the tears that happen at least 2-4 times a day. Then there's the emotional breakdowns, the whining, the "she's being mean to me", the tattling, the talking at the same time....
At our favorite thin crust pizza place. Dessert, the giant cookie w/ice cream on top.
Somehow, those moments are instantly forgotten when they cuddle with me, kiss me, or pummel me with a bear hug and tell me that I'm the "best mom in the whole world, best baker, cooker, or the nicest"- because they are so easily pleased with the surprises/activities and places we go.
Have I also mentioned how sweet they can be to each other? They encourage, teach, share, defend, comfort, giggle and whisper secrets as sisters do. Those moments make me deeply happy.
It's in those complete moments that I have a zen moment. I thank the Lord he gave me sweet daughters.
Here's to many, many more GNOs with my little, adorable crew.
Cheers!
By the way, what are

you

doing on Friday?
I'll be posting "Friday: A Family Lives Here".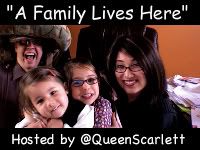 Here's my post from last week. I hope you join in on my weekly carnival. I love visiting and discovering what you're all doing as you gather evidence in your own homes.