My 6YO is currently learning about the rain forest. She is responsible for putting together a project showing the forest floor after spring break. Given we had two weeks for spring break, (this week is our last) I thought it would be a perfect time to head to the California Academy of Sciences Museum.
The museum renovations are beautiful. Golden Gate park is a place I want to spend days just lazing about, walking and enjoying the tranquility there.
the roof of the museum
One of my friends, Frances, from my middle school/high school days designed two of the pedestrian walkways in the museum. I am so proud of her, and thrilled that I was able to walk on something she created. I have many fond memories of sleep overs, roasting gummi bears over candles, and hanging at the club. We never did burn down anything.
this is a flying snake...yes, you heard that right, a flying snake.
I am never going to a real rain forest.
If you go - buy your tickets online. I used a code I found in my AAA magazine (code: 900102) to get discounted tickets. The code is valid until May 29 for up to 4 tickets per purchase. I also printed my tickets out beforehand. I like to be prepared.
It's best to arrive as close to the opening of the museum as possible. In this case, M-F it opens at 9:30am. The first thing we did was head straight to the tickets for the planetarium. Tickets are free, but you need one to be able to attend a show. Shows are on the half hour. Kids have to be four or older. My 6YO loved it. She's loved planets since she was 18 months, and could tell you in any order which planet was in which spot. So she was, quite literally in heaven. My 4YO was a little nervous. In fact, at one point in the movie it had us traveling from the depths of the darkest ocean back to land, my 4YO said, "oh phew, we're back on land."
Entering the forest floor!
After that we headed straight to the rain forest. It's housed in a giant dome, keeping it properly humid for a real rain forest. The ramp you walk on takes you in a circular path so you experience all the levels of the rain forest: forest floor, understory, canopy, and emergent layer. Yes, I had to ask my 6YO what the levels are... because I couldn't remember, and learned about them from her.
I loved how the birds flew freely around in the canopy layers, and the butterflies just flitting this way and that around our heads.
As you travel through the levels of the rain forest you find different creatures that reside there, and information about their habitats, eating preferences, and enjoy the fascinating oddities found in the rain forest.
I can't remember what the name of the spider is - but there's a face on that spider.
Dude, I'm not kidding. It is creepy. Do you see the blue-ish face? It's there I swear.
After the rain forest we headed to the aquarium and the California Coast. We enjoyed the anaconda and the accompanying hole where you can stick your arm in to simulate what it would feel like if an anaconda got a hold of your arm and squeezed it for 11 seconds. I have a feeling a real anaconda would not let go after 11 seconds.
The docents are around all over the museum with fascinating information and exhibits to touch. Apparently, my 4YO wanted to see if the snake skin left a smell.
There were also eels. You know, Ursula's buddies? They had a palm panel next to the eels that would give you a slight shock, simulating if Flotsam and Jetsom did Ursula's bidding. It was getting close to lunch time so we headed upstairs to see the white crocodile, the penguins, the water show and adorable, fluffy chickens. There were still so many interactive exhibits we didn't get a chance to experience. I would have liked to spend a few more hours there, but lunch was calling, and I wanted to leave San Francisco by two, so we could avoid traffic coming home.
We loved the museum. It's beautiful, clean, the docents are helpful, and my girls enjoyed it. My 6YO who is naturally inquisitive felt right at home and was so tickled by everything she saw. My 4YO will probably be more excited in a year or two. She has a bit less stamina than her big sister, so leaving at two was just about her limit.
If you live relatively close to SF - you've got to see it. We tried visiting the museum three years ago, instead my little one fell into a Japanese koi pond. I am so happy we finally made the visit. If you're in the area - definitely put it on your must see list.
6YO was willing to touch the snake.
When asked what their favorite part of the museum was:
6YO - The planetarium
4YO - The butterflies
On our way home.
4YO: Are we still in San Francisco world? How many minutes until we're in our world?
She also calls it "grandma's world" when we go to the bay area to visit.
In the center of the museum there's this beautiful atrium with a water show for the kids,
lectures and hatching chickens.
I bought the girls some astronaut ice cream from the Museum store because, it reminded of me when I was in eighth grade and we went to the Smithsonian for our East Coast trip. I bought astronaut ice cream then too. I also bought a "LOVE Science" shirt for both of them. I'm hoping that their inquisitive minds, and love of science becomes a lifelong pursuit.
The incredible, edible egg...
By the way, what are
you
doing on Friday?
I'll be posting "Friday: A Family Lives Here".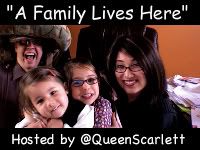 Here are some previous posts. I hope you join in on my weekly carnival. I love visiting and discovering what you're all doing as you gather evidence in your own homes.
ps. I kept forgetting to ask someone to snap a shot with all of us... alas...will have to do so next visit!